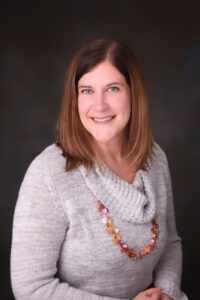 Alindsey was born and raised in Urbandale, Iowa, and lived in Iowa City, Illinois, and Michigan in her adult life, before settling in Cedar Rapids where she currently lives with her husband, 5 kids and 3 dogs. She enjoys volunteering in the community for the schools, church and is a volunteer Firefighter and Advanced EMT with Robins Fire Department. Her family loves to be outdoors, going on hikes, camping, bonfires. They also love having "movie theaters" in the garage for the neighborhood.
She got her degree in Psychology and then master's degree in nursing at the University of Iowa. She spent 10 years in bedside ICU and ED nursing and practicing as a CNS educator managing critical care education for nurses and physicians. She finished her Family Nurse Practitioner degree and board certification in 2016. She went on to complete the Adult and Gero Acute Care Nurse Practitioner program and became board certified in Acute Care as well as Emergency Medicine in 2021.
Alindsey loves to care for the whole patient and family, as every part of life can contribute to a person's health and success. She wants to meet a person where they are in their health journey and help them meet their goals in ways that work for them. She loves the challenge of medical puzzles and is excited to be here to support the community of Audubon County.