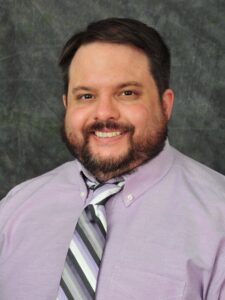 James Cooper, MD, PhD
Meet Dr. James Cooper! Dr. Cooper is a board-certified Family Practice Physician at Audubon County Memorial Hospital & Clinics. Dr. Cooper sees patients in Audubon Family Health Clinic, Exira Medical Clinic, in the hospital setting, and the Emergency Department.
Dr. Cooper grew up in Pine Bluff, Arkansas, and attended undergrad at Arkansas State University in Jonesboro, Arkansas, where he graduated cum laude with honors with degrees in physics, mathematics, and a minor in statistics. He then attended graduate school at the University of Arkansas at Fayetteville where he received his Masters and PhD in Microelectronics – Photonics under the direction of Dr. William Oliver. While there, Dr. Cooper and his team researched and developed novel methods to load, transport, and deliver new therapeutics to cancer cells. He also taught multiple physics classes and won teaching assistant of the year in 2009. During his last year at the University, he served as a visiting Assistant Professor of Physics.
Dr. Cooper received his medical degree from University of Arkansas for Medical Science with Honors in Research and completed his family medicine residency at University of Arkansas – South Central.
Dr. Cooper started serving patients in Audubon County in August 2020 when he moved to Audubon with his wife, Rebekah, who he recently married in July 2020, and their 3 dogs – Molly, Nelly, and Daisy. In his free time, Dr. Cooper enjoys remodeling his house, playing the guitar, and taking outdoor trips with his wife and dogs.
Dr. Cooper is currently accepting new patients!
TO MAKE AN APPOINTMENT, CALL 712-563-4611 IN AUDUBON OR 712-268-5348 IN EXIRA.