The health and safety of patients and staff is our highest priority for Audubon County Memorial Hospital & Clinics.
There is an expanding global outbreak of a respiratory illness caused by a novel (new) coronavirus, referred to as COVID-19. This new virus and disease were unknown to the population before the outbreak began in Wuhan, China, in December 2019. This page provides information about the coronavirus response in our local area.
At this time, there has been known positive COVID-19 case in Audubon County. Audubon County Memorial Hospital and Clinics continues to follow IDPH and CDC recommendations along with determinations from our providers on whether or not a patient needs to be tested. IDPH has reported that approximately 80% of Iowans affected with COVID-19 will experience only a mild to moderate illness. Iowans who are mildly ill with COVID-19 are able to recover at home.
The Iowa Department of Public Health (IDPH) has set up a hotline to answer your questions. Dial 211 from any phone to speak with an expert, or visit www.211iowa.org. IDPH is your best resource to ask questions and stay informed about COVID-19 updates.
We want to emphasize the importance of this community-mindedness by staying vigilant with social practices and hygiene. Stay home if possible and practice social distancing to stop or slow the spread of contagious illnesses, such as COVID-19. Avoid shaking hands, cancel large events, avoid large crowds, and keep a 6-foot distance between you and others.
"As a community, we will overcome this situation together, neighbors helping neighbors and caring first for those most in need. It's this spirit of family that has always defined who we are as a community and I'm so proud to see how our employees, providers, and community partners are pulling together." said Suzanne Cooner, CEO of Audubon County Memorial Hospital & Clinics.
---
Audubon County COVID-19 Call Center
For individuals who are experiencing symptoms of COVID-19, it's essential that your entire family self-quarantine. If possible, the individual with symptoms should isolate separately within the home, staying in a separate bedroom and bathroom area. When your entire family is under self-quarantine, no one should leave the home. This is absolutely critical to avoid spreading this highly contagious virus. Make arrangements to have someone drop off needed supplies outside to prevent the disease from spreading to others in the community.
We have set up a screening call center that will be staffed 24/7 by hospital staff. If you feel that you may have COVID-19 or think you need to see your healthcare provider, call our call center at 712-563-5236.
Patients who are mildly ill with Coronavirus are able to recover and manage their symptoms at home. If you have symptoms including a fever of greater than 100.4°, cough, sore throat and/or mild shortness of breath, you don't need to be seen by a provider immediately. These patients are first asked to self-quarantine their entire family at home. Waiting three days before contacting us ensures medical staff can treat the correct condition and helps to determine if the severity of the symptoms requires medical attention.  Contact our call center as listed above if your symptoms worsen or you are having trouble breathing.
---
Visitor Restrictions
Audubon County Memorial Hospital and Clinics is initiating temporary visitor restrictions and guidance for patient visitors to all our care locations effective March 12, 2020 until further notice.  As the COVID-19 status continues to rapidly evolve, visitor restrictions are subject to change.  These restrictions are similar to those implemented at hospitals across the country to protect the public, and our patients and caregivers, and prevent the spread of illness.
All visitors entering the hospital will be screened for symptoms of the flu and COVID-19. Your temperature will be taken, and you will be asked to apply a mask as you enter the building.  Symptoms may occur alone or in combination, and could include:
Fever in past 2 days
Cough in last few days
Any respiratory issues/difficulty breathing in the last 2 days
We have designated staff at the Emergency Department and Main entrances to guide you through the screening process.  Visitors will be given a homemade mask to wear and to take home.  Visitors are encouraged to bring the mask each time you come to the hospital or clinics.
General Patient Visitor Restrictions:
No Visitors Permitted at Hospital Unless Exception Approved
All Approved Visitors Must Check in at the Front Desk
One Visitor Per Patient Permitted at Outpatient Locations unless exceptions apply
Effective March 13, 2020 at 9:30 p.m. the ACMH Fitness Center will be closed to the public and ACMH staff until further notice.
Fitness center
Effective Friday, March 13 at 9:30 p.m. the ACMH Fitness Center will be closed to the public until further notice.
Hospital (Inpatient) Locations:
Only primary caregivers will be allowed to visit hospitalized patients. Primary caregivers must be at least 18 years of age and older and include:
Parents/stepparents
Spouse/significant other
Other defined caregiver
Visitors are restricted to one visitor per day. The same visitor may not come and go from the hospital on the same day. Exceptions to these restrictions must be approved by hospital Chief Nursing Officer (CNO) or Chief Executive Officer (CEO) in specific circumstances including:
No more than two visitors per patient at end-of-life.
Two parents/caregivers of pediatric patients.
One personal visitor per patient undergoing urgent/emergency surgery.
One visitor to accompany patient for hospital discharge.
One visitor if indicated by patient's provider to support patient rehabilitation needs.
One visitor/caretaker for developmentally delayed or severely agitated patients with dementia.
Visitors under the age of 18 may visit only if they are considered by the patient's health care team to be essential to the patient's well-being. Children must be supervised by an adult at all times.
Family, friends and loved ones are encouraged to use electronic devices and applications (apps) to connect with patients (i.e., smartphones, tablets, FaceTime, Skype, etc.)
Exceptions to the Temporary Patient Visitor Restrictions:
Any visitor who lives in the same household as a COVID-19 positive person is not permitted.
These individuals will not be approved as exceptions
Approved visitors will be asked whether they live in the same household as a COVID-19 positive person
This policy is consistent with the 14-day self-quarantine mandate for all individuals who live in the same household as a COVID-19 positive person.
Guidance for Approved Visitors from Exceptions:
All approved visitors must check in at the main entrance and be screened. After-hours visitors may enter through the Emergency Department door and follow the posted directions on the door.
All approved visitors will be screened for flu-like symptoms, such as fever, cough or shortness of breath within the past two days and will not be permitted if symptomatic.
Family members or friends approved for visitation of any approved visitors must remain in patient rooms and will not be permitted to wait in lobbies or common areas, including any/all areas of the hospital—lobbies, waiting areas, common spaces, chapel, cafeteria, and/or any other area within the care location.
All visitors are required to wash hands with soap and water or use alcohol-based hand sanitizer upon entering and exiting the patient's room.
Additional Visitor Restrictions to COVID-19 Confirmed or Patients Under Investigation (PUI):
Approved visitors must gown in Personal Protective Equipment (PPE), consistent with personnel
Approved visitors must not be ill or show symptoms of illness
Outpatient  Locations:
One visitor is permitted to accompany a patient for an ambulatory visit (i.e., clinic visit); visitor must not be ill or show symptoms of illness
No visitor is permitted in our cancer infusion locations due to increased risk to immunocompromised patients; visitors may wait in their cars or designated areas per instruction from treatment locations.
Thank you for your understanding and cooperation in this effort. We understand these screenings may be an inconvenience, but it's an important step to keep everyone as safe and healthy as possible. We appreciate your help protecting our patients and families.
---
Patient and Visitor Screening
As cases of COVID-19 in the state increase daily, we are limiting the number of public entrances to our hospital. Additionally, patients and visitors entering the hospital will be screened for symptoms of the flu and COVID-19.
Screening questions include:
Fever or respiratory illness (cough or shortness of breath)?
Taken a cruise or traveled internationally in the last 14 days?
Been in a crowd or with a group of people in a small space?
Live with someone who has symptoms of COVID-19 or has tested positive for COVID-19?
Provided care for a patient with symptoms of COVID-19 or has tested positive for COVID-19 without using proper PPE?
Had close contact (within 6 feet for more than 2 minutes) with a person who is visibly sick with respiratory symptoms (i.e., sneezing, coughing) or says they are sick with fever or respiratory symptoms?
We have designated staff at the Emergency Room and Main entrances to guide you through this process. On weekends, the main entrance will not be open, so all patients and visitors should enter through the ER entrance and push the button to be screened before entering.
You will not be permitted to enter if you exhibit signs or symptoms of an influenza-like illness. Patients and visitors with certain other symptoms, such as runny nose, fatigue, chills, vomiting, or diarrhea should also postpone their visits.
---
Changes to Medical Care
Audubon County Memorial Hospital & Clinics is here for for you! We will continue to provide medical care to the communities we serve and will continue our mission to provide "excellence with quality and compassion to those we serve."
ELECTIVE SURGERIES
In response to the COVID-19 pandemic, Audubon County Memorial Hospital and Clinics is temporarily suspending all elective surgeries effective Monday, March 23 until further notice. Surgeries scheduled March 23 and forward will be postponed, with the exception of emergent or time-sensitive procedures deemed necessary by our medical staff. Patients who have scheduled surgeries or procedures will be contacted by Audubon County Memorial Hospital and Clinics' staff. The decision to suspend elective surgeries was made in efforts to decrease the risk of exposure to our community, our staff and our patients. Audubon County Memorial Hospital and Clinics is also preparing to conserve medical supplies and other resources.
exira medical clinic
Audubon County Memorial Hospital has received enough personal protective equipment over the last week to re-open our Exira Clinic on a limited basis. The clinic had been temporarily closed for the safety of the staff and to maximize the use of limited PPE. Our provider, Val Riesberg, and Christie Konkler and Julie Vais will staff the clinic starting this Friday, April 3rd from 8 am to 4 pm. After this Friday, the clinic will be open on Monday, Wednesday, and Friday from 8 am to 4 pm.
It is very important for the safety of our staff that visits are by appointment only. This includes appointments for Lab draws and BP checks, which are usually walk ins.
Patients will be screened on the phone and again in person upon entering the clinic. Everyone will wear a mask and the mask will be sent home with the patient.
The Clinic will schedule the patients appropriately throughout the day so that no one is in the clinic at the same time as another family.
The Clinic will only see patients whose symptoms are not suspected as possible Covid -19. Suspected Covid-19 will be redirected to Audubon County Memorial Hospital for testing at a designated time to maximize the staff's use of full protective equipment.
The Exira Clinic will open up fully only after the Pandemic is considered contained in Iowa.
We appreciate everyone's patience at this difficult time but safety of our patients and staff are our primary concern.
---
Coping With Anxiety
The world is facing two contagions right now:
The Covid 19 virus itself
The emotions the virus generates
Negative emotions can be as contagious as a virus. Fear, panic, and fatigue undermine our ability to think clearly and act with deliberation. This virus can make anyone feel vulnerable and overwhelmed due to the newness and uncertainty of what lies ahead, due to the rapid changes and influx of information, and due to the additional expectations both at work and at home. We need to prevent breakdown and burnout, as we cannot help others without first helping ourselves.
This is a new experience for everyone. Know that you are not alone.
The first time you do anything, you are not going to do it perfectly. Do not expect that from yourself. Learn and grow as best you can.
Doing something for the first time takes more time. It's a heavier lift when you are doing something for the first time.
You know your personal warning signs of stress and fatigue better than anyone. Recognizing that you are stressed and tired is necessary to include recognizing when you are overstimulated, hungry, needing sleep, or needing exercise. If you are feeling overwhelmed or anxious:
S-Stop
T-Take a breath
O-Observe (notice what is happening inside and outside of your person)
P-Proceed
Make plans with your family and supports:
Outline your plan to shower immediately when you get home and not to hug or touch anyone until after you shower. Use this practice daily.
Talk with your kids now about the potential need for social distancing within the household. (See attached brochure about how to assist children in understanding Covid 19.)
Talk with kids and family members about the possibility for an extended absence and what that could look like.
Have a Plan for Your Mental and Physical Health:
Focus on what is important right now. Be present.
Establish routines, set boundaries.
Know and label what you are feeling.
Connect with your support systems even if only by phone or video chat.
Have a plan for calming yourself down, whether it is breathing exercises, getting outdoors, taking a time-out, turning off the television and other electronics, etc.
Reflect on what you need to move forward. Reach out for help.
Know there are mental health telehealth sessions available. Regular copays have been waived when doing telehealth.
Lois Potthoff, LMHC, provides mental health services at Audubon County Memorial Hospital & Clinics.
We want to support our staff, many of whom are on the front lines in fighting this serious international pandemic. Please ensure that you and your family are getting adequate sleep, water, exercise, and fresh air. Plan to disconnect time throughout the day from all electronics, television, and news stations to reduce overload. We encourage our staff to use self-care strategies and to reach out for support.
---
Talking With Children About COVID-19
Encourage feelings of safety.
Let your child know what you are doing to keep your family safe and how they are able to help (frequent hand-washing, staying at home).
Be careful to not talk in hushed or panicked tones; this can increase anxiety.
Reassure children that disruptions with daily life, such as school, are temporary.
Be patient and empathetic.
Children may struggle to verbalize emotions related to the crisis. These emotions can sometimes manifest as anxiety, anger, or behaviors that are frustrating to caregivers.
Try to maintain a normal routine as much as possible.
Uphold normal household rules, such as screen time limits, bedtimes, or snacking. These will be harder to maintain later if they become inconsistent now.
Help your child know what to anticipate throughout the day.
Children are often concerned about loved ones; make phone calls or have video chats to let kids know these people are okay.
Provide education and honesty.
Allow your child to lead the conversation. Answer questions simply, give them time to process, and allow them to ask follow-up questions.
Lead by example with expected behavior changes, such as increased hand washing and staying home when possible.
Keep yourself informed with reputable sources; children are likely seeing and overhearing a lot of misinformation that will be confusing/scary.
Demonstrate proper hand washing technique, including areas that children often miss (in between fingers, back of the hand, etc).
"Why can't we go anywhere?"
"This kind of germ can spread through people coughing when they are sick, or sometimes by touching things that the germ can live on. We're staying home right now so we can stay away from the germ and not spread it around on accident."
"Why do I have to wash my hands so much?"
"Washing our hands gets rid of the germs that might be there. Since this germ is new and we don't know a lot about it yet, we're trying really hard to make sure we don't get sick or leave germs where other people might get them."
"Will you/I get sick?"
"I can't promise I/you won't get sick. But since we're staying home and washing our hands and not touching our faces, we are pretty safe. If one of us does get sick though, there are a lot of doctors and scientists working really hard to make people with this kind of germ feel better."
"Why can't I see/hug this person?"
"We're being extra careful around some people because if they get sick it might be harder for them to get better. Even though you're not sick right now, it's good to be safe just in case."
"If you get sick, who is going to take care of me?"
"If I get sick we will have to be extra careful at home and stay away from each other, but I should still be able to take care of you. Just in case I can't though, I've asked (friend/neighbor/relative) and they can help too."
---

How to Stay Up-To-Date on Latest Information
For updates on the COVID-19 and what you can do to protect yourself, your family and your neighbors, please routinely visit the Audubon County Memorial Hospital and Clinics Facebook page, the Iowa Department of Public Health (IDPH) website at www.idph.iowa.gov, and the Centers for Disease Control and Prevention (CDC) website at www.cdc.gov.
Centers for Disease Control and Prevention
Iowa Department of Public Health
World Health Organization
---
Precautions – We All Have a Part to Play
Remember to take everyday preventive actions that are always recommended to prevent the spread of respiratory viruses.
Avoid close contact with sick people.
While sick, limit contact with others as much as possible.
Stay home if you are sick.
Cover your nose and mouth when you cough or sneeze. Avoid touching your eyes, nose and mouth with unwashed hands; germs spread this way.
Clean and disinfect surfaces and objects that may be contaminated with germs.
Wash your hands often with soap and water for at least 20 seconds. If soap and water are not available, use an alcohol based hand rub with at least 60% alcohol.
---
Slow the Spread, Wear a Mask
The CDC and Iowa Department of Public Health recommends wearing cloth face coverings in public settings where other social distancing measures are difficult to maintain (e.g., grocery stores and pharmacies). CDC also advises the use of simple cloth face coverings to slow the spread of the virus and help people who may have the virus and do not know it from transmitting it to others.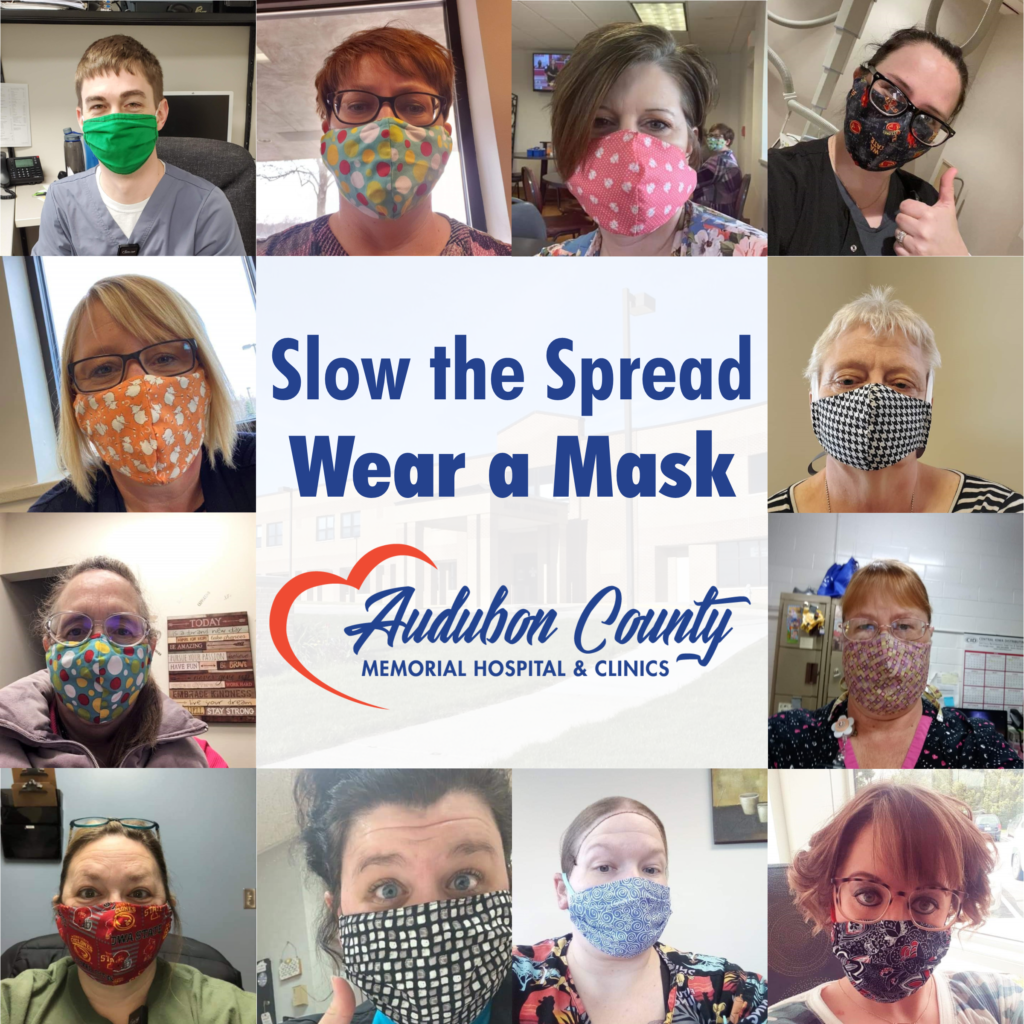 The cloth face coverings recommended are not surgical masks or N-95 respirators. Those are critical supplies that must continue to be reserved for healthcare workers and other medical first responders, as recommended by current CDC guidance.
---
Accepting Donations for Masks and Other PPE
Audubon County Memorial Hospital and Clinics is so grateful for all of the support we are receiving from the community as we continuously respond and prepare for COVID-19. As we continue to watch the evolving landscape of healthcare and the world as whole with the COVID-19 pandemic, we realize that accepting help from our community partners in different ways is invaluable.
We also continue to monitor the inventory we have for personal protective equipment (PPE) and are taking measures to ensure that we are conserving supplies as much as possible. Many hospitals around the country are asking their community for help, by asking community members to sew cloth masks.
There are three styles of masks that are needed. One is the standard rectangular shape, one is a more triangular mask that is shaped to cover N95 respirators, and one is a pediatric sized mask. The safety of our patients, staff, and community is our top priority. Fabric masks offer the benefit of being able to be washed and reused.
If you need instructions provided to you in another way, please contact the hospital. Masks can be dropped off at the main entrance with the person screening patients and visitors at the screening booth. If community members would like someone to meet them at their vehicle, they can call ahead, and a staff member can collect the masks from the vehicle.
We are forever grateful for the community's help to protect our healthcare workers and patients during this unprecedented time.   We will not forget how our community came together to care for each other when they were needed most.
---
Community Awareness Program, Neighbors Helping Neighbors
Audubon County Memorial Hospital and Clinics encourages community members in Audubon, Brayton, Exira, Gray, Hamlin, and Ross to contact us at (712) 563-5236 if you are someone who might need non-medical assistance and would like to participate in a community assistance program during the COVID-19 pandemic.
Our staff and volunteers will provide you a red and green tag. If you need assistance picking up and delivering supplies such as groceries, goods from Caring and Sharing, or other non-medical items, you will place the RED tag on your front window so that it can be seen clearly from the road.
Staff and Volunteers will drive by the homes of those who have signed up to check the tags several times per week. If it is RED, indicating you need some sort of non-medical assistance, an Audubon County Memorial Hospital and Clinics staff member will contact you. If you do NOT need anything, please keep your tag turned to green, indicating you have no needs at that time.
This is a great way for neighbors to check on neighbors, and help close the gap of Audubon County residents who may need non-medical assistance. Please call us at (712) 563-5236 with questions, or to sign yourself or a loved one up for this program.
---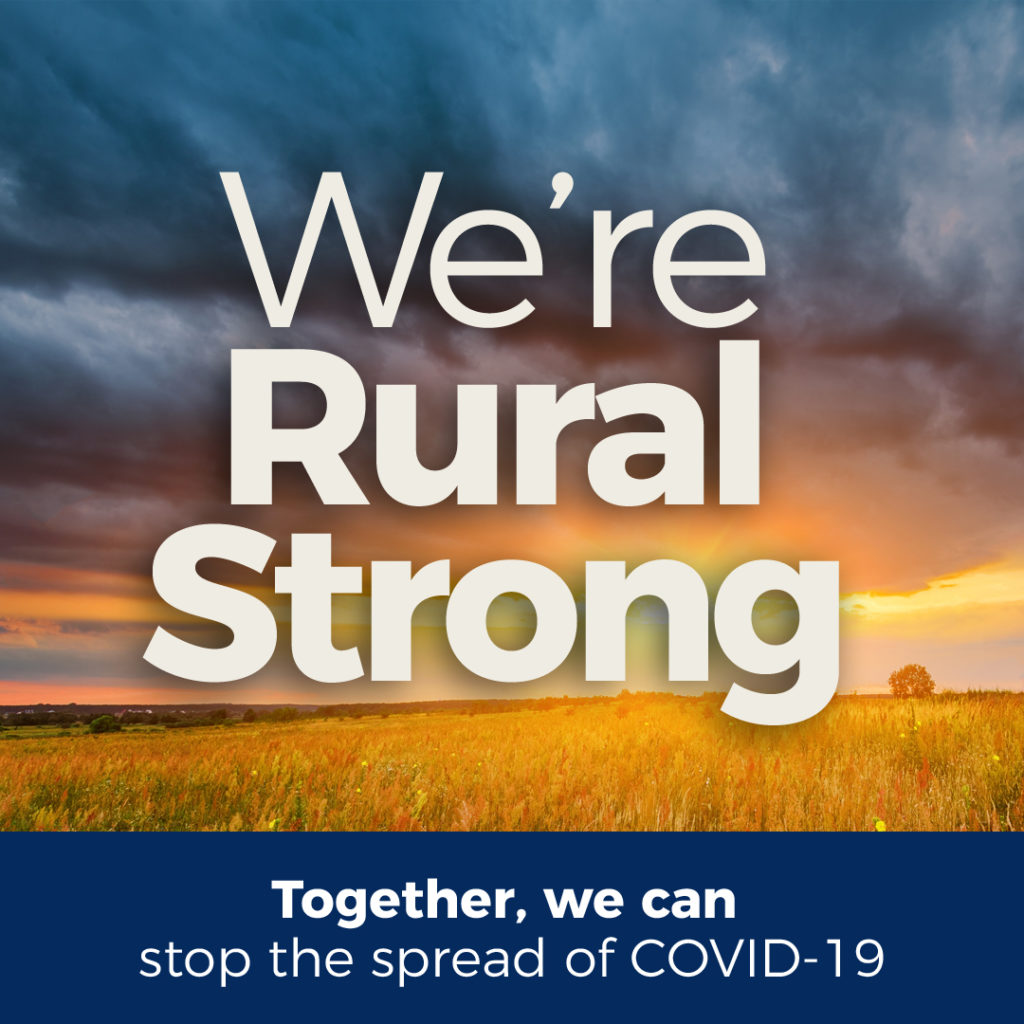 ---

Audubon County Memorial Hospital & Clinics
515 Pacific Ave.
Audubon, IA 50025
712-563-2611
---