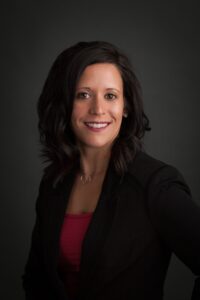 "In primary care, it is important to treat the whole person and I am dedicated to providing the best care to all of my patients and their families."
Kelli is originally from Neola, Iowa, and a graduate of Tri-Center Community Schools. Inspired by her grandmother at a very young age, Kelli decided to become a nurse. In 2009, Kelli graduated with her Associates Degree from Iowa Western Community College in Council Bluffs.  In 2015 she received her Bachelor of Science in Nursing from Upper Iowa University in Fayette, Iowa. She knew she wanted to better serve the people of her rural health setting, so she continued her education. Kelli went on to earn her Master of Science in Nursing in 2018 from Allen College in Waterloo, Iowa and became a Board-Certified Nurse Practitioner.
Kelli has experience caring for patients in the emergency department, inpatient acute care, and outpatient settings. Kelli has been practicing primary care for over three years, and emergency medicine for two years. Kelli proudly enjoys being able to care for all ages from birth to elderly in the rural health setting close to her home in Irwin.
In their spare time Kelli and her husband, Brian Borkowski, enjoy spending time together with friends and family. They share multiple hobbies and interests that keep them very busy.  They also welcomed their first child in February 2022.