The Audubon County Hospital Foundation is a 501(c)3 non-profit organization established in 1994 to promote and strive for improvement of healthcare facilities and services for residents of Audubon County and the surrounding area. The Foundation consists of a eight-member board representing the urban and rural areas of the county and a Director of Development. The board accepts gifts and conducts fundraising events. The board then utilizes funds to promote positive changes in healthcare so that present and future generations may experience improved health and greater quality of life. Above all, the Foundation supports Audubon County Memorial Hospital's mission of excellence with quality and compassion to those we serve.
2022-2023 ANNUAL GIVING INFORMATION
Dear Friends,
Your contributions have helped make Audubon County Memorial Hospital and Clinics become designated as one of the Top 100 Critical Access Hospitals in the nation several times, over the past decade!  We are so grateful to you for supporting our committed team of caregivers.
Your 2022-2023 donations will help the Audubon County Hospital Foundation purchase the Stryker Prime TC Transport Chairs for Audubon County Memorial Hospital and Clinics.
With features such as a one-touch central brake and an upright oxygen tank holder, these transport chairs were developed with safety in mind. BackSmart ergonomics were included in the design to help reduce bending and reaching.
Big wheels make steering and cornering easier while stand-assist armrests provide upgraded support for patients. Foot-operated swing away leg rests enhance access to the patient and closer positioning to beds and cars, while also reducing trip hazards.
Patient transport is an investment in the well-being of our staff, patients, and caregivers. Please consider making a tax-deductible donation to this year's Annual Giving Campaign. To make a gift, go to Ways to Donate.
The Foundation Board Members wish to thank you for your kindness as you support our efforts to bring this invaluable equipment to our community.
I'd be happy to talk to you more about our giving program. Please contact me at grevings@acmhhosp.org or call 712-563-5295.
In grateful appreciation,
Susan Greving
Marketing and Foundation Director
WAYS TO DONATE
Monetary donations: checks made payable to Audubon County Hospital Foundation
Online via Credit card or PayPal 
QR code 
Endowed Gifts
Wills and Revocable Living Trusts
Gifts of Grain (ACHF partners with Landus (all locations), Elite Octane, POET, Scoular, and New Coop.)
Gifts made to both the Audubon County Hospital Foundation and the ACHF Endowed Fund are tax deductible as charitable donations to the extent allowed by law.
If you would like to donate using our online method, please use our Donate button or QR code to make a gift using your credit card or PayPal account.
---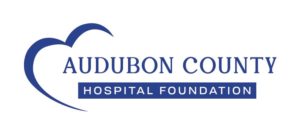 Susan Greving
Director of Marketing and Development
515 Pacific Ave Audubon, Iowa 50025
Phone: 712.563.5295 | Email: Foundation
---
Board of Directors
Daniel Bierbrodt
Jolene Burns
Janet Christoffersen
Chloe Dankert
Chelle Madsen
Karen Nelson
Kathy Sornson