THANK YOU TO OUR TOURNAMENT SPONSORS, PRIZE SPONSORS, AND VOLUNTEERS FOR THE 2023 ACH FOUNDATION GOLF FUNDRAISER!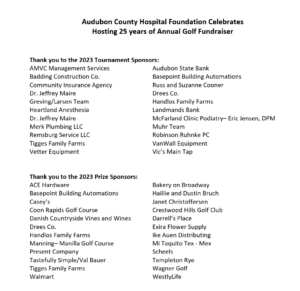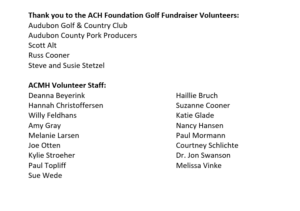 On June 2, 2023, The Audubon County Hospital Foundation (ACHF) celebrated a milestone as Foundation board members hosted the 25th Annual Golf Fundraiser.
This year marked 25 years of sponsors, prize sponsors, vendors, and volunteers coming together to support the missions of both the Foundation and Audubon County Memorial Hospital. Local businesses and vendors from Audubon County, Carroll, Des Moines, and Omaha enjoyed a great day of golf.
The board members were very pleased to have golf teams of local community members participate as well as a sponsored team by ACMH general surgeon, Dr. Jeff Maire.
Daniel Bierbrodt, ACH Foundation Board President, expressed his gratitude for the outpouring of support, "We as a board are so grateful for all our supporters to our golf fundraiser. This is a fundraiser that is 25 years strong, and it would not be possible without all of them. From our local supporters to our vendor supporters, we thank you for everything. This fundraiser helps us support the Audubon County Memorial Hospital and Clinics in so many ways. Being able to purchase equipment to help the staff offer the best healthcare for people locally is a huge blessing to this community. No matter what, we cannot say THANK YOU enough!"
Contributions for this event were raised through individuals and organizations sponsoring a golf team/course signage, and sponsoring prizes for winning foursomes, such as cash pin prizes or merchandise.
The ACH Foundation Board is proud to announce that through the generosity of the Audubon community and beyond, donations made to this year's annual giving campaign, have successfully been able to fund the Stryker Prime Transport Chairs for Audubon County Memorial Hospital's facilities.
Susan Greving, Foundation Director expressed her appreciation for her fellow co-workers who helped behind the scenes in preparation for the event and those who volunteered to help run the golf tournament. "We really appreciate our staff of volunteers who took time out of their busy work schedules to help make the event day run smoothly. Sponsors and Foundation board members alike have remarked how nice it was to be around such positive and upbeat volunteers!"
This occasion wouldn't have been possible without the team that planned and coordinated this year's golf tournament. There were many people who went above and beyond to make this day a success.
"Foundation board members and ACMH employees helped in various ways, and while it might have been a small effort on their part, it made a huge difference in the end," Greving said. "I am also personally so thankful for Haillie Bruch, as she gave so much of her time to help in the preparation of the event."
Year after year, lunch has been a highlight with the Audubon County Pork Producers meat donation and this year was no exception. Board member Chelle Madsen remarked that "Scott Alt has done a wonderful job of smoking the pulled pork for our lunch. He volunteers to do this each year, and it is much appreciated by all our guests."
To mark the milestone of the 25th Golf Fundraiser, sponsors submitted statements on why they continue to choose to support the ACH Foundation. These thoughtful words of encouragement and support of the Foundation were showcased in a video presentation throughout the tournament.
These are just a few of the over 40 statements offered by sponsoring organizations. ACH Foundation 2023 Annual Golf Fundraiser Hole and Pin Prize Sponsors:
"We support the Audubon County Hospital Foundation because we feel it is important that the hospital can continue to provide the highest quality healthcare while bringing services close to where patients live and work."- Drees Co.
"One of the ways we support the Audubon County Hospital Foundation is with our participation in the Golf Tournament.  It helps the Foundation to purchase the newest and necessary equipment for their patients.  We are so fortunate to have a hospital here in Audubon that provides us with friendly personal care and the fact that Specialty Doctors come to our hospital which saves the patient having to drive to the city.  Thanks to all for your dedicated work." – Doris Handlos, Handlos Family Farms
"We support Audubon County Hospital Foundation because they adhere to their mission statement which improves and promotes the facility. As a retired nurse manager, I have experienced first-hand the patient care benefits of upgraded quality care equipment. It is greatly appreciated!" -Bonnie Tigges, Tigges Family Farms
"We support the Audubon County Hospital Foundation because of the great administration and staff that take care of us!"- Dr. Jeffrey Maire, General Surgeon, ACMH
"I support the Audubon County Hospital Foundation because of its longstanding mission to support the hospital and community by bringing additional resources to help provide for the care of the patients and families we serve." – Suzanne Cooner, CEO, Audubon County Memorial Hospital and Clinics
These show their commitment to the Foundation, and the Audubon County community and are reminders that when we all come together, every donation makes a difference.
"To those board members that have come before us…we continue to build the foundation of relationships that last long after golf season is done. It was a beautiful day for golf! See you next year!"- 2023 ACH Foundation Board Members.