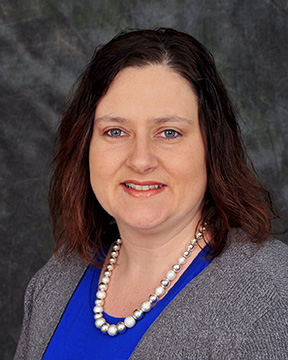 Valerie Riesberg started her employment full-time at the Exira Medical Clinic on January 2nd, 2015 and is excited to be working in the Exira Community and provide care in the Family Practice. Her education includes an Associates in Business/Accounting from Empire State University, Associates Degree in Nursing from DMACC in Carroll and a Bachelor of Nursing degree from the University of Phoenix. She went on to receive her Master of Science in Nursing-Family Nurse Practitioner from the University of Cincinnati. Valerie is Board Certified through the American Nurses Credentialing Center. She is certified in Advanced Trauma Life Support, Advanced Cardiac Life Support, Basic Cardiac Life Support, Pediatric Advanced Life Support and Sexual Assault Nurse Examiner Trained.
Valerie was born in the suburbs of Buffalo, Ny. She joined the US Marine Corps after High School and was active duty for 5 years. Then Valerie met and married her husband Josh. They have 2 children, Mikayla and Brayden, who keep her and her husband very busy with their various sports and activities. They moved to Templeton in 2006.
Prior to her employment at the Exira Medical Clinic, Valerie worked at St. Anthony's Regional Hospital for 3 years and then worked at Manning Regional Hospital for 5 years as a registered nurse.
Valerie has had an opportunity to have rotations with Michelle Kroeger, ARNP (Family Practice) at St Anthonys Clinic in Manning, Dr Tracy Kahl (Family Practice) at Burges Health Center in Onawa, Anne Rozeboom, ARNP (Womens Health) at Planned Parenthood in Urbandale, Dr Tom Dulaney (Orthopedics) in Carroll, and Dr Derek Duncan (Family Practice) in Lake City.
Valerie states, "I take pride in being able to help provide women's healthcare needs as well as caring for the entire family. My philosophy in healthcare is that it should be patient centered and I am here to assist them with education and care or treatment to fit their needs."