With the beginning of the holiday season upon us, Audubon County Memorial Hospital and Clinics was busy decorating for the community.
Participating in The Festival of Trees, hosted by the Chamber of Commerce, has become a favorite of the employees. "This tradition of bringing together the community and seeing all the different trees is very special." said Marketing Director, Susan Greving.
Always happy to participate in community events, the staff of ACMH and Clinics made their list and checked it twice. They decided this was the year for an upgrade. A group of staff members got to work, designing, and building a new holiday display for the town square.
Haillie Bruch, HR Specialist said, "We wanted our display to be a representation of our hospital and clinics. We had fun with it, showing our ED department (with the ambulance), even down to the lights on the top of our hospital building! Joe Otten, had a great idea to add lights to the inside of the display, so that at night everyone can see we are always here for them!"
It takes time to put together these ideas and Suzanne Cooner, CEO is quick to mention the staff members that went out of their way to help bring this holiday cheer to the community. "We really could not have done it without them. We appreciate the extra effort it took to fit this into their already busy schedules."
As you walk through the hospital and clinics, you will be greeted with warm smiles to go with all of the holiday decorations. "All of our departments are getting into the holiday spirit," Cooner said.  From decorated trees, and the holiday wreaths from the ACH Foundation, the staff of ACMH hope to bring everyone a little cheer to this time of year.
ACMH Holiday Town Square Display 2022:
Thank you very much to the following holiday elves who put this display together:
Melanie Larsen, Haillie Bruch, Joe Otten, Todd Lawshe, Suzanne Cooner, Russ Cooner
Thanks for the additional staff that helped us take it over to the park and set it up:
Paul Topliff, Nate Moser, and Willy Feldhans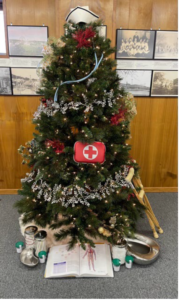 ACMH Festival of Trees:
ACMH enjoyed being a part of the Festival of Trees this weekend! Thank you to the Chamber for organizing this holiday tradition!
Thank you to Susan Greving, Haillie Bruch, Todd Lawshe, and Suzanne Cooner for setting up the holiday tree for the Festival of Trees on Friday.