Audubon, IA, November 8, 2023 – ACMH and Dr. Stephanie Vampola, Family Medicine Physician, were proud to host Myrtue Medical Center's Dr. Kelly Anderson, OB/GYN at the Chamber Coffee held at the hospital this October.
ACMH and MMC have partnered together to bring birthing services to Audubon families. On Friday, Oct. 20th, Dr. Vampola introduced Dr. Anderson to the Audubon community. Both physicians met with local community members, healthcare professionals, and employees.
Myrtue Medical Center, in partnership with Audubon County Memorial Hospital (ACMH), offers expectant moms the combined care of Myrtue's pregnancy and birthing services with follow-up care from Audubon's family medical providers. ACMH also offers blood tests as a part of routine care during pregnancy.
Betsy Smith, a mother and patient of both physicians was there with her new baby to say hello to her providers. Smith had this to say about the partnership, "My daughter was born at Myrtue Hospital in April through the partnership with primary care in Audubon.  I have had such a great experience with this partnership and would not change a thing with my birthing experience.  I would highly recommend anyone to use this partnership in their own birthing plan."
Thank you to Dr. Kelly Anderson for joining us and getting to know our community.
A special thank you Heuss Creations for the delicious breakfast treats.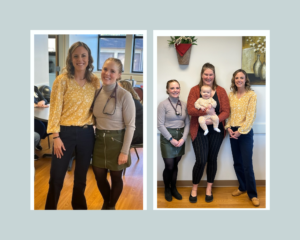 Photo included (L to R):
– Dr. Stephanie Vampola, Family Medicine Physician, ACMH
– Betsy Smith, Mother/Patient of both physicians
– Opal Smith, Daughter of Betsy
– Dr. Kelly Anderson, OB/GYN, MMC