Audubon, Iowa- September 12, 2023: Last week was bittersweet for the staff at Audubon County Memorial Hospital and Clinics. Staff members gathered to celebrate the retirement of ACMH nurse, Linda Holland. Through laughter and tears and flowers and pecan rolls, everyone wished Linda well in her well-deserved retirement.
Linda has been a vital part of the ACMH family for almost 38 years.
During her nursing career, she has been an influential member of the nursing staff and an integral member of the patient care team. Her commitment to caring for her patients and their families was highlighted when she was honored as the ACMH 2015 DAISY Award Winner.
We thank Linda for her years of service and dedication to our hospital and community. Linda will be greatly missed by staff and patients.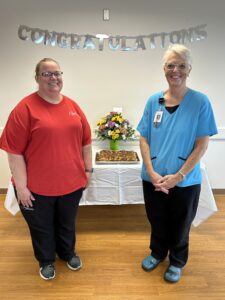 Sarah Asmus, LPN, OPC Supervisor and Linda Holland, RN