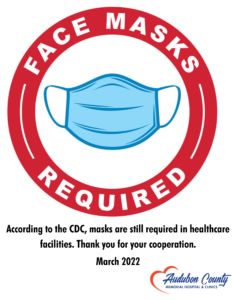 According to the Centers for Disease Control and Prevention, hospitals and other health care settings are not subject to the new CDC masking recommendations. Therefore, regardless of a community's status under the new metrics, Audubon County Memorial Hospital and Clinics (ACMH) will continue to require visitors, staff, and patients to wear masks within its facilities.
ACMH has a solemn duty to protect the health and well-being of our patients, many of whom are immunocompromised and/or severely sick and weakened and are at a high risk of a severe reaction should they get COVID-19.
In order to protect our patients during this ongoing pandemic, ACMH continues to maintain various mitigation measures, including universal masking for visitors, staff, and patients. The science overwhelmingly shows that masking helps to reduce the spread of COVID-19, both for those who wear the mask and those who spend time around those who are masked.  Masking is an especially important mitigation tool since many people who have COVID-19, especially the omicron variant, do not have any symptoms and may not know they even have the virus and are spreading it to others.
These reasons are why the CDC continues to recommend universal masking in health care settings and why ACMH will continue to have masking policies in place even while other settings (such as restaurants, office buildings, gyms, etc.) in the community drop them.
ACMH will continue to follow the science and take the steps necessary to protect our patients, especially the most vulnerable.