Turning 65 years old soon?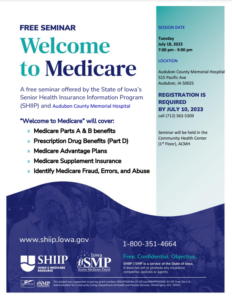 Audubon County Memorial Hospital will be hosting SHIIP's free "Welcome to Medicare" seminar on Tuesday, July 18th from 7 to 9 p.m. in the hospital's Community Health Center on the first floor.
This seminar is in conjunction with the State of Iowa's Senior Health Insurance Information Program (SHIIP). This program will cover Medicare Parts A & B benefits, Prescription Drug Benefits (Part D), Medicare Advantage Plans, Medicare Supplement Insurance and Identify Medicare Fraud, Errors, and Abuse.
 Pre-registration is required by July 10th by calling 712-563-5309.