ACMH staff members attended Wellness Day at Audubon High School. Staff members joined students and other community members as they listened to keynote speaker, Emma Benoit discuss the importance of mental health awareness and prevention.
Benoit serves as an Ambassador for Living Works, raising awareness on mental health and suicide by presenting her documentary "My Ascension." This film "chronicles her recovery journey and advocacy work, while addressing the youth suicide epidemic."
"Today, "988" is the three-digit, nationwide phone number to connect directly to the 988 Suicide and Crisis Lifeline.
By calling or texting 988, you'll connect with mental health professionals with the 988 Suicide and Crisis Lifeline, formerly known as the National Suicide Prevention Lifeline.
Veterans can press "1" after dialing 988 to connect directly to the Veterans Crisis Lifeline which serves our nation's Veterans, service members, National Guard and Reserve members, and those who support them.
For texts, Veterans should continue to text the Veterans Crisis Lifeline short code: 838255." Federal Communications Commission.gov.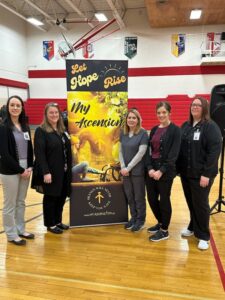 ACMH Staff left to right: Haillie Bruch, Melanie Larsen, RN, Christy Konkler, CMA, Caylee Rokke, RN, and Melissa Vinke, CMA.