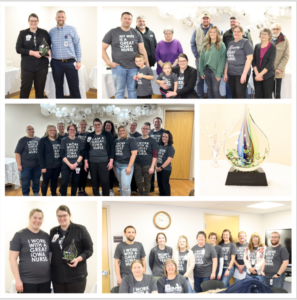 Audubon, IA, February 17, 2023 – Audubon County Memorial Hospital and Clinics' (ACMH) Med-Surg/Emergency Department Director, Cassandra Neumann, RN, BSN has been honored by the Great Iowa Nurses program as a 2023 Great Iowa Nurse.
The Great Iowa Nurses program announced that seventy-eight Iowa nurses have been recognized as 2023 Great Iowa Nurses, including more than 70 nurses from IHA member hospitals. This program annually honors Iowa nurses for their contributions to the nursing profession.
On February 15, 2023, ACMH employees were joined by Cassey's family and friends to celebrate this distinction. Suzanne Cooner, Chief Executive Officer, presented Cassey with her framed certificate from the Great Iowa Nurses program offering heartfelt congratulations while expressing what an "incredible honor it is for Cassey to have been chosen."
Paul Topliff, Chief Operating Officer, presented Cassey with an award to commemorate the occasion and told family and co-workers that, "Cassey embodies the qualities of a great nurse. Intelligence along with equal doses of caring and compassion. ACMH and the community is blessed to have her here."
Nominations for this honor are reviewed by a committee comprised of professionals from a variety of Iowa health care organizations. Great Iowa Nurses are chosen for their demonstrated service to patients, leadership, mentoring or serving as role models.
Cassey was nominated by ACMH's Care Coordinator, Betsy Smith who took the time to share her thoughts on why Cassey is a Great Iowa Nurse.
"Cassey Neumann, RN/BSN is the very definition of a Great Iowa Nurse.  As a steward leader, she keeps her team engaged, anticipates concerns that may arise in the emergency department and on the med/surg floor, and cultivates trust from her employees and the larger community.  Cassey demonstrates a strong conviction to constantly improve her department and invest in her team.  She utilizes the personal strengths of each of her individual team members to offer the best possible emergency room and inpatient services for our community at Audubon County Memorial Hospital.
Cassey values the diverse needs and celebrates the personal achievements of each individual employee she manages.  She is invested in the patients she serves, tirelessly advocating for a superior standard of care.  She is devoted to the community at large volunteering for daycare, preschool, the Spina Bifida Association of Iowa, and many other organizations.
I am amazed by her resiliency, constantly pushing herself to high personal and professional standards.  Her drive inspires the collective performance of those around her, enhancing the excellence, quality, and compassion provided to patients within Audubon County Memorial Hospital."
The ACMH family wishes to extend genuine appreciation for all Cassey has done for the health and wellness of our communities and is proud of her well-deserved honor.
100 Great Iowa Nurses was created in 2004 and hosted by the University of Iowa until 2020. In 2022, with the support of Mary Greeley Medical Center, the program was revived and renamed Great Iowa Nurses.