As March came to a close, we were reminded once again of the importance of raising awareness for Colorectal Cancer. On Tuesday, March 28th, Dr. Jeffrey Maire was a guest speaker at the Audubon Lions Club meeting doing just that.
Audubon County Memorial Hospital's general surgeon, Dr. Jeffrey Maire was invited to be a guest speaker at Audubon Lion's Club's March meeting. Dr. Maire spoke with the Lions members regarding the benefits of getting routine colonoscopies as well as other general surgeries. They had informative, open discussions regarding procedures followed by a Q & A.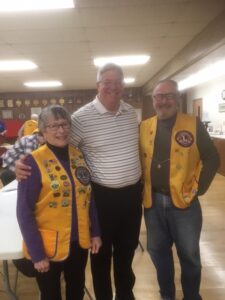 Pictured here (left to right). Rosemary Williamson, Dr. Jeffrey Maire, D.O., and Lee Nielsen.
ACMH is grateful to have the chance to reach out to our community and offer educational opportunities through guest speaker initiative. If your organization, would like to have one of our providers speak at your event, please contact Marketing Director, Susan Greving at: marketing@acmhhosp.org.