At this time, the Moderna COVID-19 booster vaccine is not available.
The Pfizer COVID-19 Booster vaccine is available for eligible individuals (see infographic below).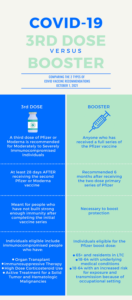 The Audubon County COVID-19 Vaccination Locations chart below, details where individuals can receive each type of vaccine in Audubon County as of 10/11/21.
Audubon County Memorial Hospital's Vaccination Clinic on Wednesdays and Fridays from 1-4pm is now closed.
Children ages 12-17 are still recommended to receive the COVID-19 Pfizer vaccine through their primary care provider. Please contact your child's primary care provider to schedule an appointment for a COVID-19 vaccine.   
Contact information for COVID-19 Vaccination Locations: Medicap Pharmacy: 712-563-2655 and Audubon County Public Health 712-563-2226 or www.healthyaudubon.org.
AUDUBON COUNTY COVID-19 VACCINATION LOCATIONS as of 10/11/21
Vaccinations given at all Audubon Memorial Hospital and Clinics
are scheduled by appointment only.
Vaccine Type and

Dose level

Audubon County

Memorial Hospital

712-563-2226

Medicap

Pharmacy

712-563-2655

Audubon

Family Health Clinic

Children 12-17

712-563-2226

Exira Medical Clinic

Children 12-17

712-563-2226

Moderna:

1st Dose

NO
Available Upon Request
NO
NO
Moderna:

2nd Dose

Appointments currently

scheduled will be

completed

YES

NO
NO
Moderna:

3rd Dose

YES
NO
NO
NO
Moderna:

Booster

Not Available at this time
Not Available at this time
NO
NO
Pfizer: 1st Dose
NO
YES
YES
YES
Pfizer: 2nd Dose
NO
YES
YES
YES
Pfizer: 3rd Dose
NO
YES
NO
NO
Pfizer: Booster
NO
YES
NO
NO