Where there is compassion, there is action. Whatever the circumstance may be, compassion fills the hearts of the Audubon County Hospital and Clinics staff.
Audubon County Memorial Hospital and Clinics (ACMH), in partnership with seven other Western Iowa hospitals are sending urgently needed medical supplies and equipment to Ukraine.
This humanitarian relief effort began when Major Gen. (R) Chris Hughes, a native of Red Oak, Iowa, reached out to Nova Ukraine, a non-profit organization involved in large scale humanitarian and disaster relief for Ukraine. Major Gen. Hughes' plan was to locate the necessary medical supplies and equipment urgently needed to support the Ukrainian military and citizenry.
Ron Kloewer, CEO of Montgomery County Memorial Hospital reached out to several Western Iowa Hospitals, including ACMH, asking for help to coordinate efforts to supply Nova Ukraine with the medical supplies and equipment urgently needed in Ukraine.  ACMH donated medical supplies including IV solution and supplies, tourniquets, gauzes, bandages, gloves, needles, as well as trauma care supplies and surgical supplies.
"What is currently happening in Ukraine was hard to watch and our staff wanted to do anything we could to help.  ACMH was honored to be able to help the people of Ukraine by donating our excess medical supplies," says ACMH CEO, Suzanne Cooner. As time was of the essence, Suzanne and her husband Russ spent most of the day on Friday traveling to other participating hospitals to pick up the supplies and transport them to the central staging location in Red Oak for shipments headed to Ukraine.
Seven other hospitals including Montgomery County Memorial Hospital + Clinics, Crawford County Memorial Hospital, St. Anthony Regional Hospital, Cass Health, Myrtue Medical Center, Shenandoah Medical Center, and Spencer Hospital, also contributed medical supplies.  Nearly a dozen pallets of medical supplies were collected from this joint effort and will be heading to Ukraine.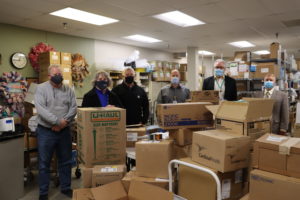 Suzanne Cooner (CEO ACMH) and her husband, Russ Cooner work with Major General Chris Hughes, Barry Jacobsen (CEO Myrtue), Ron Kloewer (CEO Montgomery), and Brett Altman (CEO Cass) to gather medical supplies to transport to Nova Ukraine.