Audubon, IA, November 17, 2023 – Audubon County Hospital Foundation was proud to sponsor Dr. Stephanie Vampola's program Books for Kids, during National Literacy Month.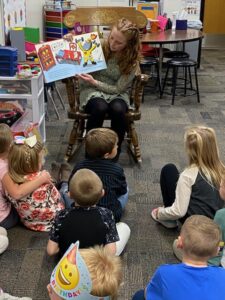 Giving children access to books and the importance of education and literacy is a charitable cause that is near and dear to Dr. Vampola's heart.
In an effort to get to know the children of our county and encourage reading at an early age, Dr. Vampola visited both Audubon and Exira elementary schools and read books to the children during story time.
Dr. Vampola read from her personal favorite book series for that age, the Biscuit books by Alyssa Satin Capucilli. The Biscuit books foster a love of reading by following a little yellow puppy on his adventures.
As a literacy advocate, it was important to Dr. Vampola that each student be able to have their own book to take home. Inspired by Dr. Vampola's outreach to the community, The Audubon County Hospital Foundation purchased enough Biscuit books for Dr. Vampola to give one to each student.