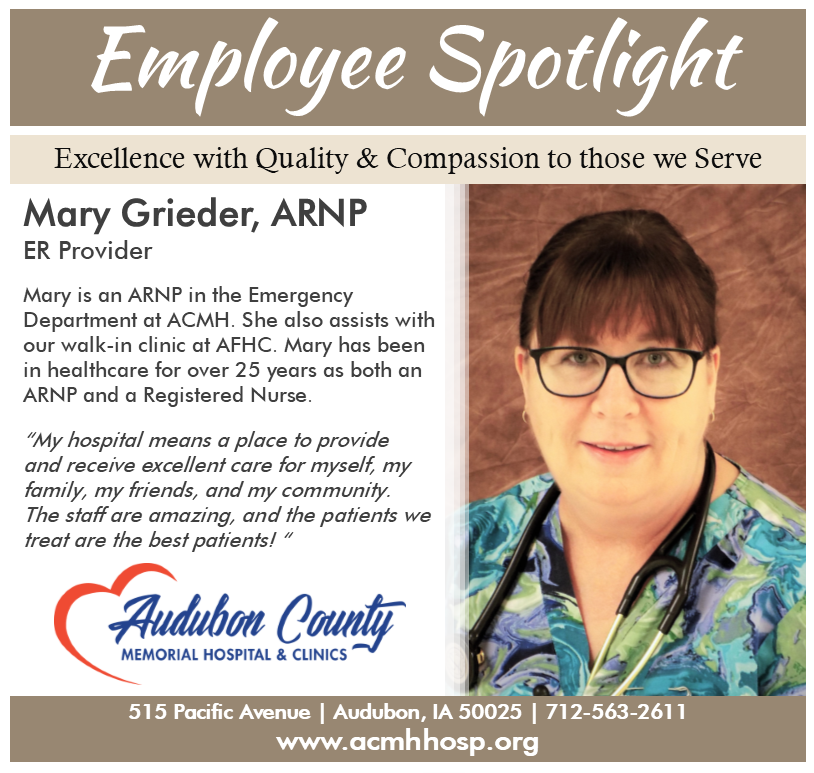 Mary is an Advanced Registered Nurse Practitioner (ARNP) in the Emergency Department at ACMH, and also assists with our walk-in hours in the Physician Clinics department. Mary has worked for ACMH since March 2015.
As an ARNP in the Emergency Department, Mary performs many jobs including ordering tests, patient education, consulting with physicians and nurses, etc. In her role, she must be able to readily think on her feet to make accurate diagnoses quickly, and work with a wide variety of people including patients, families, and other staff.
"My hospital means a place to provide and receive excellent care for myself, my family, my friends, and my community." states Mary, "The staff are amazing, and the patients we treat are the best patients! I like the family atmosphere."
Mary has been in healthcare for over 25 years as an ARNP and as an RN. Mary initially earned her Associates Degree in Nursing (ADN), and then continued her education earning a Bachelor of Science in Nursing (BSN), and a Master of Science in Nursing (MSN) to become a Certified Family Nurse Practitioner. Mary is currently working on her Doctor of Nursing Practice (DNP) at Briar Cliff University.
Mary is married to her husband Dan. Together they have four sons Jonathan age 28 and wife Kristi, Michael age 26 and fiancé Spring, David age 22, and Christopher age 20 and fiancé Ashley. They have 6 cats and a tarantula as pets. Mary also has one granddaughter who is six months old (Nora) and another granddaughter due September 11 of this year.
In her free time, Mary enjoys reading, needlework, crochet, sewing/quilting, and scrapbooking.