Audubon County Memorial Hospital & Clinics is proud to announce Heather Toft, Physician Clinics Director, has completed the certification process to earn the title of Certified Rural Health Clinic Professional. Heather is one of only two RHC Professionals in the state of Iowa and among the merely ninety-seven individuals in the entire United States to pass the certification exam.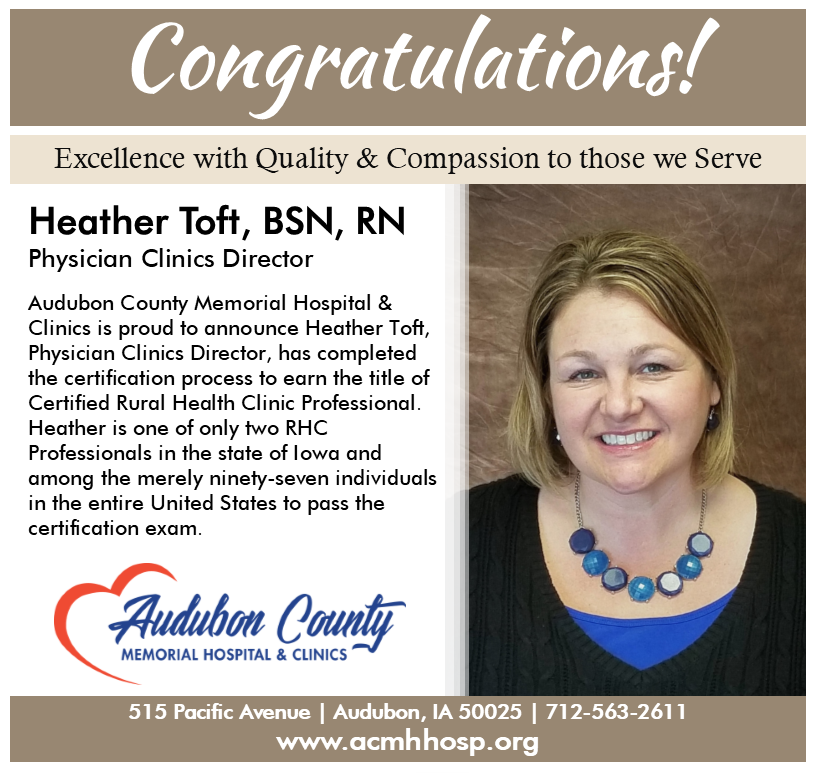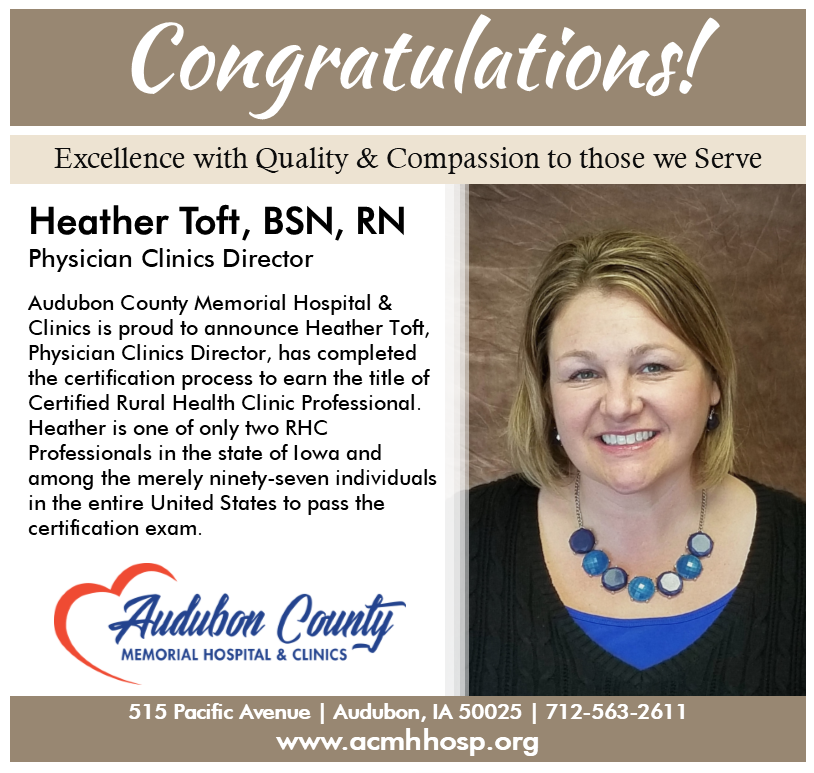 Having the certification sets Heather apart as it shows that she is committed to building the best Rural Health Clinic program she can in her community. Taking the steps to learn more about the why and how of RHCs is only going to further her knowledge and help her to teach that to others in her community. She is taking the time to become an expert in her field and pass that knowledge along to others. Having strong Rural Health Clinics makes for a stronger community in so many ways. Rules and regulations are ever changing and by taking part in this course she is staying up on those changes to better not only the Rural Health Clinic but the community as well. Often times, we are taught the job itself, the steps and procedures, but we don't always know the why. This course is teaching not only the how, but the why." – Cate Visser, National Association of Rural Health Clinic
The Rural Health Clinic (RHC) program is intended to increase access to primary care services for Medicaid and Medicare Patients in rural communities. They are required to use a team approach of physicians working with non-physician practitioners such as nurse practitioners and physician assistants.
Heather has been the Physician Clinics Director for the Audubon County Memorial Hospital & Clinics since December 2017. She has her Bachelor of Nursing Degree from Mercy College of Health Sciences and has been a Registered Nurse since 1997. She resides in Audubon with her husband, Brandon and three children, Sawyer, Sullivan, and Scarlett.