Audubon County Memorial Hospital & Clinics is proud to announce Kolton Hewlett, Director of HR and Organizational Excellence, has earned the designation as a Professional in Human Resources through the HR Certification Institute (HRCI).
The Professional in Human Resources (PHR) demonstrates an HR professional's mastery of the technical and operational aspects of HR management, including U.S. laws and regulations. The exam tests competency in six main functional areas including Business Management and Strategy, Workforce Planning and Employment, Employee Training and Development, Compensation and Benefits, Employee and Labor Relations, and Risk Management and Compliance.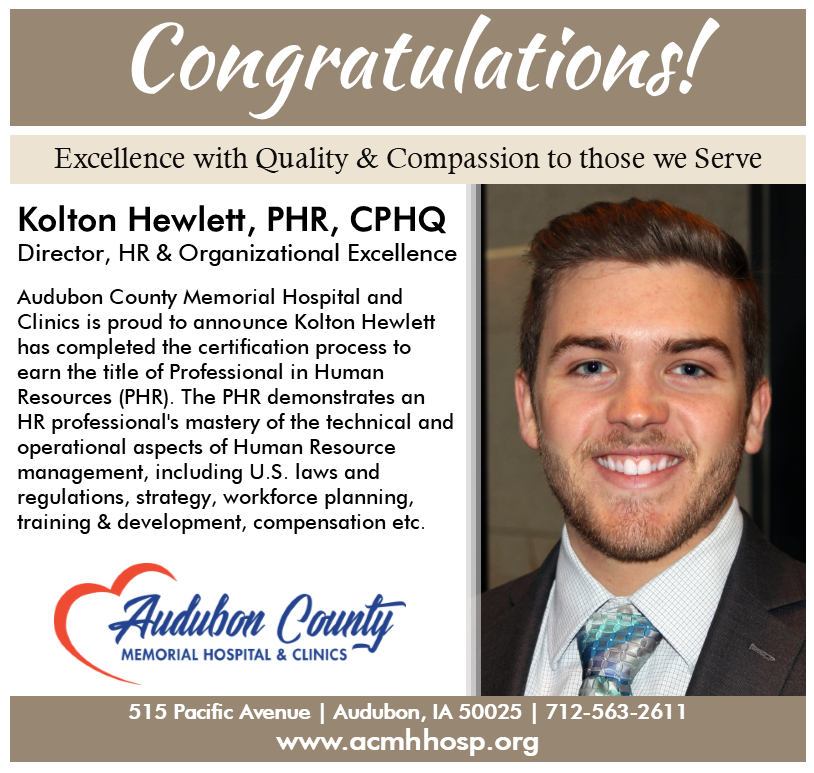 To be eligible to take the PHR exam a Bachelor's degree and a minimum of two years of relevant experience in a human resources-related role is required. To maintain the PHR credential, 60 recertification credits must be earned every three years.
The role of human resources is continuously changing and growing. Today's human resources professionals are responsible for much more than typical administrative HR duties such employment screening and benefits administration. HR now serves as a high-level business partner responsible for recommending and instituting strategies for people and the organization that further the attainment of the organization's strategic goals.
Kolton has served as the Director of HR and Organizational Excellence at Audubon County Memorial Hospital and Clinics since March 2017. He has a bachelor's degree in Healthcare Administration and Human Resource Management from Upper Iowa University and is also a Certified Professional in Healthcare Quality (CPHQ).