Audubon, IA  April 19, 2018:  Audubon County Memorial Hospital & Clinics is pleased to announce that Lisa Paulsen has been named Chief Nursing Office (CNO). Lisa has been in this role since February of 2018, and served in an interim capacity for a few months before that.
"Her experience as the Director of Surgical and Outpatient Services at ACMH and her clinical experience have proven to be a great asset to our hospital and community," said Suzanne Cooner, Chief Executive Officer. "Lisa is a proven leader who is able to organize, direct, and evaluate patient care activities to ensure safe clinical outcomes and compliance with healthcare standards."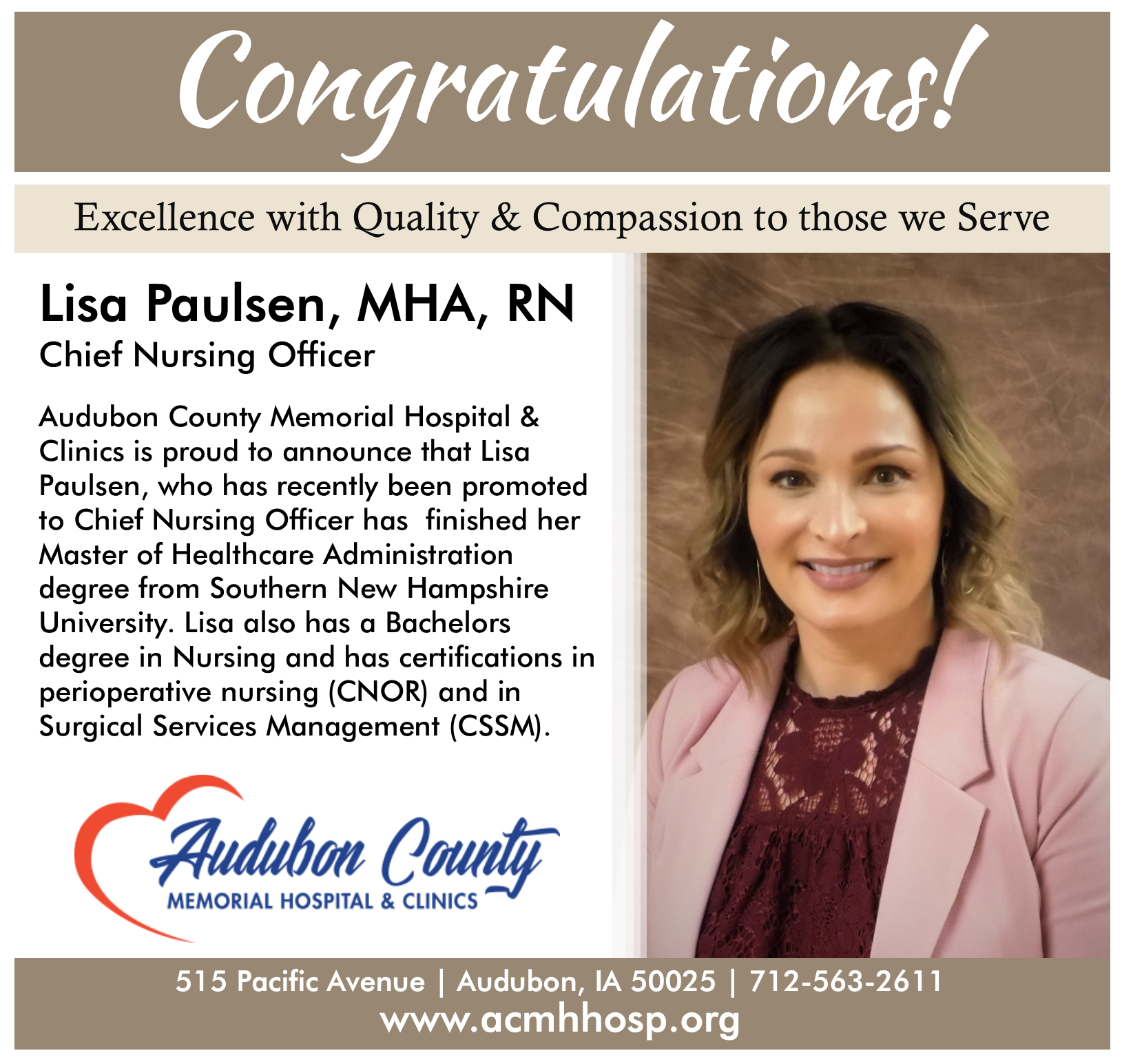 Lisa has twenty-three years of experience and has served in many areas of nursing including ER, OB, Surgery, Central Supply, Med/Surg, Education, and Geriatrics.  Lisa started at ACMH in 1997 but left in 2008 to gain leadership experience as a House Supervisor at Mercy West lakes in Des Moines.  She returned to ACMH in 2013 where she served as the Director of Surgical and Outpatient Services until her promotion to Chief Nursing Officer.   Additionally, Lisa recently completed her Master's Degree in Healthcare Administration from Southern New Hampshire University and has certifications in perioperative nursing (CNOR) and in Surgical Services Management (CSSM).
Lisa resides with her husband Bill, a grain farmer and cattle rancher, on a farm west of Exira.  She has three children, Dakota- age 25, resides in Camp Pendleton California, and is a sergeant in the Marine Corps. Madaline is 19, finishing her freshman year at Simpson College and Dane is 14 in the 8th grade at Exira-EHK. Lisa is a lifetime resident of Audubon County.
"I love my job and the challenges that come with it, I am devoted to the community and to the success of this organization, I love being able to work in my hometown and taking care of people from my own community," stated Lisa.