Audubon County Memorial Hospital & Clinics is excited to share that we are continuing to expand our outpatient specialty services in our effort to achieve "excellence with quality and compassion to those we serve."
In October, ACMH welcomed Lois Potthoff as a full-time Licensed Mental Health Counselor (LMHC), who sees patients five days a week in a private office on the main level of the hospital. Lois is a Certified Trauma Professional, and a Certified EMDR Consultant and Coach, who has over 30 years' experience working in the field of mental illness and developmental disorders. She specializes in trauma, attachment, and developmental disorders, and couples counseling and also treats many other common issues, including; PTSD, anxiety, depression, bipolar disorder, substance use, and somatic disorders. Ms. Potthoff has also received specialized training in Parent-Child Interaction Therapy (PCIT), Play Therapy, Lifespan Integration, and Ego State therapies.
In addition, ACMH also has Mental Health Services weekly from Kirk Bragg and Sharon Walker. Kirk Bragg is a licensed social worker (LISW) who provides counseling and therapy sessions for patients of all ages. He comes to ACMH every 1st and 3rd Monday. Sharon Walker is a nurse practitioner specializing in adult mental health. She comes to ACMH every other Wednesday to see patients for diagnosis and medication therapy used for the treatment of depression, bi-polar disorder, anxiety, sleep disturbances, schizophrenia, and many other mental health issues.
Also, in October, ACMH added spine surgery to our list of surgical services. Spine surgery is performed by Dr. Pedro Ricart, Spine and Neck Specialist, who has been providing our patients with acute and chronic nonsurgical treatment for neck and back issues since 2017. Dr. Ricart will now also be performing minimally invasive spine procedures for adult scoliosis & kyphosis and cervical and lumbar disc problems.
In November, ACMH welcomed back Dr. Robert Warner to provide oncology services! Our oncology team can provide you with a personalized plan of care developed for your individual needs. All oncology visits and treatments are delivered in a warm and healing environment so you and your family can focus on recovery while staying close to home. Our outpatient specialty nurses are all certified in chemotherapy and are dedicated to providing you the best possible care.
In December, ACMH welcomes Dr. Brandon Menke, who will be providing ophthalmology services and cataract procedures. Dr. Menke will be consulting with patients in the outpatient clinic and performing cataract and glaucoma surgeries- including the newest minimally invasive glaucoma procedures. These new procedures help to lower pressure in the eye, which can potentially minimize the need for glaucoma eye drops and can be performed at the same time as cataract surgery and can be performed at the same time as cataract surgery.
In January, ACMH will welcome Dr. Kyle Stansifer, Board-Certified Adult, and Pediatric ENT, to our Outpatient Specialty Clinic! Dr. Stansifer is trained in both medicine and surgery and to treat disorders of the ears, nose, throat and related structures of the head and neck. He treats children and adults and has a special interest in performing nasal and sinus surgery, tonsillectomies, ear tube placement, and many other types of surgeries.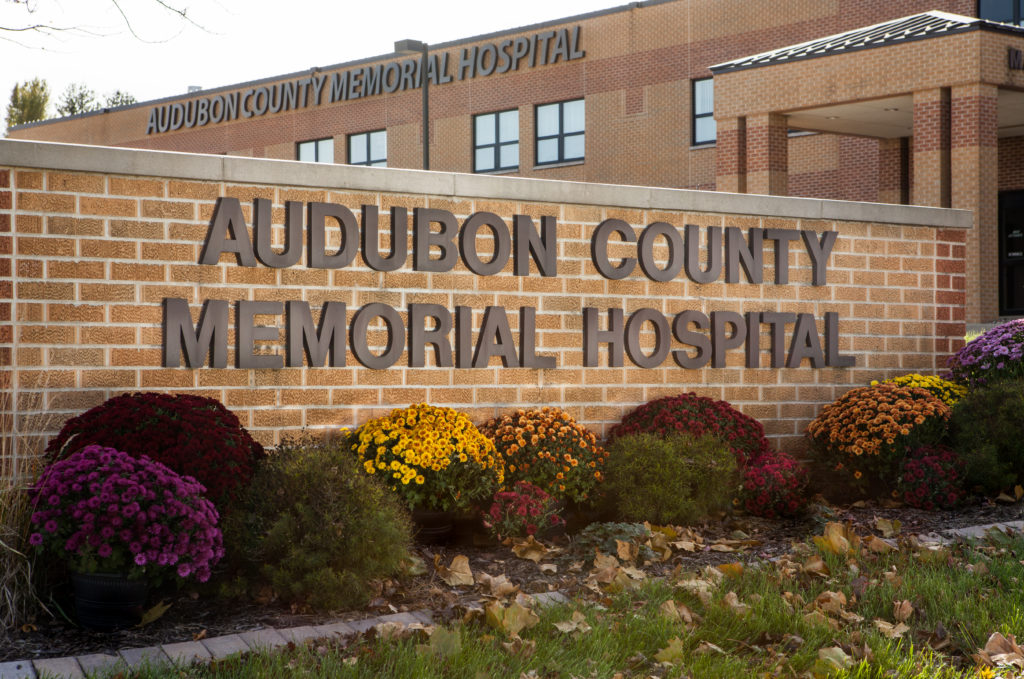 In addition to these new and exciting services, Audubon County Memorial Hospital & Clinics also continues to provide many other exceptional services in our outpatient specialty clinic. These services and treatments include joint replacement surgery, knee arthroscopy, sports medicine, joint injections, fracture repairs, ACL reconstruction, rotator cuff repair, carpal tunnel release, arthritis treatment, traumatic hand injuries, tendon and ligament repair, scoliosis, neck and back pain, discectomy, lumbar sciatica, herniated disc, spinal trauma, laparoscopic surgeries, hernia repair, breast biopsies, mastectomies, wound management, colonoscopies, vasectomies, appendectomies, plastic surgery, laser hair removal, liposuction, tummy tucks, varicose vein treatment, breast augmentation, rhinoplasty, pain management services, injection therapies, foot and ankle surgeries, diabetic foot care, bunions, hammertoes, cardiology, congestive heart failure, heart diseases, echocardiograms, deep vein thrombosis, hypertension, sleep apnea, well-woman exams, menstrual issues, infertility, cervical disease, pelvic pain, urinary issues, erectile dysfunction, prostate resections, penile implants, cystoscopies, hematology, dermatology, and much more!
For more information or to schedule an appointment with any of these specialists, please call our outpatient specialty clinic at 712-563-5304!